Saturday March 31st, 2001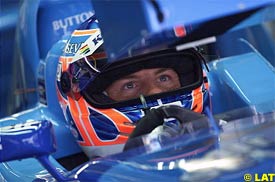 Briton Jenson Button qualified in a lowly 20th for the Brazilian Grand Prix, and then said he could not have improved in his ailing Benetton-Renault.
Button has endured a tough start to the season since his switch from BMW-Williams, but he claimed that he could not go quicker as team-mate Giancarlo Fisichella struggled to qualify in 18th.
"I feel that both Giancarlo and myself got the best out of the car," said Button. "I had a bit of an oversteer problem at the end of the session and I am of course disappointed with my position."
Benetton technical director Mike Gascoyne admitted the two Benetton cars need a lot of development to get them back up the grid in the future.
Gascoyne said: "Both drivers did a good job to get the most out of the cars. But as we know we have to develop all aspects of the package to make the car quicker and to improve our competitiveness."
---