Saturday March 31st, 2001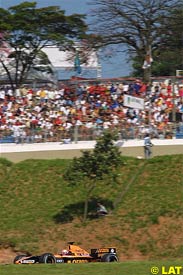 Enrique Bernoldi was ecstatic at qualifying 16th for his home Brazilian Grand Prix and predicted that the Interlagos race could kick-start his season.
Bernoldi has struggled to adapt to life in Formula One since joining Arrows, but the 22-year-old driver was quicker than team-mate Jos Verstappen and he believes he can produce the goods in his homeland.
"Well, Iím very happy with that result," Bernoldi said. "I started the season with two bad races so it would be nice to be able to turn that around at my home Grand Prix.
"Obviously Iím pleased to be ahead of my team-mate as Jos is a very quick driver. Iím hoping for a good race tomorrow and will keep pushing and trying to improve."
Dutchman Verstappen failed to match his form from Malaysia, where he finished seventh, as he ended 17th on the grid. He knows he needs to make a quick start if he is to make an impact in the Brazilian race.
"That did not go as well I as I thought it would go," Verstappen said. "The car didnít feel good on the first run so we changed the set-up which made it a little better.
"For some reason we have gone from understeer in the morning sessions to oversteer in qualifying so had to spend too much time on trying to solve this. Itís still okay though, Iíll just have to make a good start in the race."
---