Saturday March 31st, 2001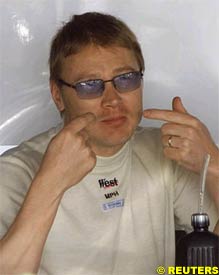 Mika Hakkinen refused to be despondent after Michael Schumacher claimed his seventh pole in succession and instead praised his team for their efforts to improve.
McLaren have fallen from their perch and have been off the pace since the start of the season, but Hakkinen believes his performance in qualifying for the Brazilian Grand Prix shows the team is moving in the right direction.
Hakkinen took third on the grid for Sunday's race and must get past Schumacher's younger brother Ralf in a Williams at the start before he can challenge Schumacher senior at the front.
"It was a very close session and I'm quite optimistic for the race tomorrow," Hakkinen said. "The entire team has done a lot of work since Malaysia and we have definitely improved the car and solved some of our problems.
"I am more confident. Obviously we are getting over the difficulties and we stay focussed, improving and getting closer. I did not really expect to be more competitive than this.
"I think I could have gone quicker but was unable to get a clear lap on my last run -- but that is one of the risks you take when leaving it until the closing minutes."
Hakkinen's team-mate David Coulthard, who currently lies joint second in the championship with Ferrari's Rubens Barrichello, was also full of praise for McLaren's development after he qualified fifth.
"The balance of the car has improved and there has been a performance increase from the engine as well," said Coulthard. "The competition is very close and I'm looking forward to the race where we should be in good shape."
---