Saturday March 31st, 2001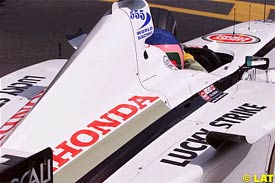 British American Racing driver Jacques Villeneuve said he is not confident of a points finish in the Brazilian Grand Prix after tyre problems cost him any chance of a place on the top three rows of the grid.
The Canadian driver qualified 12th, one place behind team-mate Olivier Panis, and he predicted another race without points for the Brackley-based team.
"I am very unhappy with that qualifying session," Villeneuve said. "We had some problems during the morning practice session, which meant that we were unable to carry out any tyre work.
"We chose the tyre based on the work that Olivier did but we did not set it up. We started with a car that was very difficult to drive and we didn't manage to get it right for qualifying. My hopes are not particularly high for this race."
Panis was also disappointed with his qualifying showing at Interlagos but the Frenchman admitted he is confident of a positive result despite Villeneuve's pessimism.
"It was a difficult session," Panis said. "We did the best job that was possible. The balance of the car was good but we need more grip. On my last run I was one tenth quicker in the end but I lost some time on the straight.
"Our aim now is to understand which strategy to take for the race. The team again did a good job and I am looking forward to tomorrow."
---