Saturday March 31st, 2001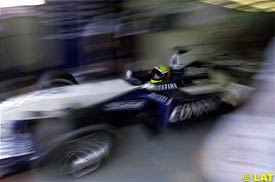 Ralf Schumacher issued a warning to McLaren as he predicted his Williams will be the second best car in the Brazilian Grand Prix on Sunday after an impressive qualifying performance at Interlagos.
Schumacher will begin the race from second alongside his pole-sitting brother Michael, and he said that he is capable of beating McLaren's Mika Hakkinen and David Coulthard in the race.
"I'm not quite sure that we can beat the Ferrari from the race performance we have seen in the last two, but we can beat McLaren," said Schumacher.
"The car is reasonably good otherwise we wouldn't be able to be where we are, but it is very difficult to drive at the moment. We have the balance but it is a tricky, difficult car at the moment."
Schumacher's team-mate Juan Pablo Montoya also posted an impressive time in qualifying and will line-up fourth on the Interlagos grid.
The Colombian crashed his race car fifteen minutes into the qualifying session and needed to run back to the pits before he could use the spare car to record his time.
Montoya said: "At my first stint the car felt really good, but I pushed too hard on turn 11. I had to take the T-car, which was behaving a bit differently from my race car. Myself and the team are getting better."
---