Wednesday May 9th, 2001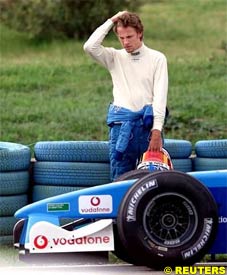 Not many people keep Bernie Ecclestone waiting outside a motor home. Jenson Button did it -- unwittingly -- at the Spanish Grand Prix, emerging from the interior of the vehicle after a slight delay to accept a golden "Bernie" award as last season's most impressive newcomer from the greying Formula One ringmaster.
Ecclestone got his own back immediately.
"He's come a long way from the back of the grid to get this," the 70-year-old Ecclestone explained with a smile, as the 21-year-old Benetton driver grimaced theatrically. The scene, good-natured as it was, highlighted a few simple truths about the Briton's second season in Formula One and his move from Williams to Renault-owned Benetton.
In a matter of months he has gone from being the sensation of the season to struggling tail-ender, overshadowed by other exciting newcomers such as the 21-year-old Finn Kimi Raikkonen. Last year he became the youngest ever points scorer in Formula One and qualified third for the Belgian Grand Prix at Spa, a circuit that allows real talent to shine.
In 2001, with a highest placing of 10th, he has not even been close to a point and he arrives in Austria for Sunday's sixth race of the season knowing that it will again show up the gulf between what was and now is. Last year at the A1-Ring, Button qualified 18th and finished fifth in the Williams after team mate Ralf Schumacher retired. This year he just aims to finish.
The fault is not Button's so much as that of the troublesome and experimental Renault V10 engine which has seen his Benetton team struggle to qualify on any but the last two rows of the grid. In Barcelona, Minardi's 19-year-old Spaniard Fernando Alonso outqualified both Button and Italian Giancarlo Fisichella.
Innate talent
Button has responded well in public to the turnaround, refusing to be rattled and remaining matter-of-fact under questioning about what amounts to a major test of his resolve and strength of character. He poses willingly for photographers, signs autographs and exudes optimism.
Frank Williams, his former team boss, has been supportive in reassuring reporters that the youngster will bounce back because he has an innate talent. But that has not prevented some from plucking the "hero to zero" tag off the shelf or seasoned observers from expressing their concerns.
Former champion Jackie Stewart, who last year suggested Button was coming into Formula One too early, warned at the weekend that fame and wealth might be undermining his chances.
"I do worry that he has had too much too soon," Stewart told the Sunday Mirror newspaper. "He's been in Formula One for a year and already he's moved to Monaco and is earning a lot of money. "That lifestyle doesn't seem right for a young driver.
"Maybe it can work for him but I know from my own experience that it wouldn't have worked for me."
The latest edition of the glossy new Formula One magazine, produced with the backing of Ecclestone and displayed throughout the paddock, has Button as the cover story. The article relates how Button handed his father the keys to a two-million-pound country house and divides his time between a fashionable London hotel and Monte Carlo.
He goes to the best restaurants and apparently prefers to buy new clothes rather than washing and ironing them. There is a black Ferrari Modena and a million-dollar, 22-meter motor cruiser called "Little Missy" to keep him amused.
"I have a great lifestyle...but I'm still not completely happy," he says. "I need to win races. If you gave me the choice to swap all that for race wins in Formula One I'd do it straightaway."
Realistically, he knows it could be a long wait.
Waiting game
Benetton's technical director Mike Gascoyne says the team will have to hang on until the French and British Grands Prix in July, when improvements are promised, to see any notable development. Gascoyne has made critical noises about Button's commitment in the past but he made clear last week that the Briton was doing the best he could in the circumstances.
"I think you've got to realise with Jenson that he's a young guy. He did better than anyone could have expected in his first year of Formula One," he said. "But he's still a 21-year old guy, he's only got 20 races under his belt, he's had to change teams, he's got new engineers and new people working with him and it takes time for him to settle down."
That has not been easy this season, with rumours -- later dismissed -- that Button might miss Austria due to a shoulder injury and be replaced by Australian Mark Webber. Other talk has turned to next season, despite his contract securing his place at Benetton for 2002 under a two-year loan deal with Williams, and speculation about a possible move.
Gascoyne said Benetton had no doubts about Button's natural ability in the car.
"He's learning all the time and getting better and better," he told BBC radio. "He's got to concentrate on his driving. "Ultimately no matter what's going on around him it's his on-track performance and his talent that's going to show him in a good light.
"We've got no doubt that he can do that. Working with the team and that, he's a very likeable young lad. He's doing a tremendously professional job."
---