Thursday May 10th, 2001
By Alan Baldwin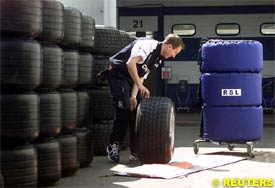 Control. Always a key consideration, it seems to have become the in-word in Formula One this season. The battle for control of the sport's commercial rights has been waged all year between the various car manufacturers and German media companies.
And at the Spanish Grand Prix earlier this month, the talk was all about the return of traction control and launch control after a seven-year absence. What comes next? Remote control? Ground Control? Or perhaps, as some wags have suggested, help for drivers' bladder control.
Formula One has always been a fascinating playground for the control freaks, with every detail minutely planned and the paddock run with impressive regimentation and organisation. The immaculate silver Formula One television trucks are parked in a precise row measured to the centimeter, their British registrations running in sequence.
One of the sleek motorhomes at least is rumoured to have a toilet that opens its door on fingerprint identification. Formula One is all about hi-tech gizmos and elitism. But there are also plenty of unashamed old timers, harking back to the "good old days" when things were less complicated. Less controlled, in fact. Take tyres for example.
Some 35 years ago, now -- five races down and 12 to go -- would be about the time in the championship when Jim Clark might have decided it was time to get some new rubber on his car. Williams technical director Patrick Head, who admits openly to being one of the old brigade, recalls how the late champion raced the first five races of one season in the 1960s on one set.
"And even then he could have gone on and done some more."
Super-Sticky
In those days tyres were hard and made of real rubber. Nowadays they can be super-soft, or sticky, and made mostly of chemical compounds to suit the characteristics of each track. Some are designed to last only a matter of minutes.
For Sunday's Austrian Grand Prix, Japanese tyre maker Bridgestone has brought 1,600 tyres to the Spielberg circuit for their six teams -- more than 130 per driver for three days. Head, for one, believes things have gone too far and that the regulations need another think to hand some of the control back to the men behind the wheel.
He recalled recently the thrill of watching Welshman Tom Pryce, killed in a tragic accident at Kyalami in South Africa in 1977, taking corners on a full power slide.
"He was just unbelievable to watch...he would turn the wheel and from then on, he was like that all the way through the corner," he said, making a sliding gesture. "He was just magic to watch.
"Keke Rosberg was sensational to watch as well, oversteering and sliding with smoke streaming off the rear wheels. For that you've got to have tyres that are robust enough to take punishment without the performance of the tyre degrading."
Current cars, aided by traction control, can go through fast corners at high speed thanks to the massive amounts of downforce being applied by the aerodynamics.
Big Tyres
Head's solution is hard and fast -- to "get rid of swathes of downforce" and to put bigger and harder tyres on the cars instead to handle the punishment.
"You've got to come up with some rules that allow the drivers to throw the cars around a bit, because these guys have got the most brilliant car control but we don't see it," he says.
It's that control word again. Traction control is likely to be here to stay, despite former champions such as Niki Lauda saying that it makes cars easy enough for a monkey to drive.
The reasoning is to stamp out the suspicions of cheating that has dogged some teams in the past in a high-tech area that has proved impossible to police effectively. Head himself conceded at the last Spanish Grand Prix in Barcelona that one generation's motorsport thrills might not be those of another, younger, one reared on Nintendo and computer games.
"Some of the older members here will gnash their teeth at the thought of traction control, for example, and say it's all a shame and a scandal," he declared.
"But if you talk to an 18-year-old, he'll probably think it's the best thing since sliced bread because he loves technology."
---