Thursday May 10th, 2001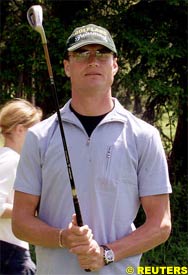 McLaren's David Coulthard has put the "brain fade" debate behind him and believes the starting problems he suffered in Spain will not strike again. Team boss Ron Dennis accused Coulthard of "brain fade" in the immediate aftermath of the last Grand Prix in Barcelona before it was found that the newly-introduced electronic "launch control" software was at fault.
The Scot, in an interview with Britain's ITV television immediately afterwards, replied that he felt it was Dennis who had the memory problem. Coulthard's car had stalled at the start of the formation lap after he had qualified on the second row and he had to start the race from the back of the grid, carving his way back to fifth by the finish.
His team mate Mika Hakkinen had led until the final curve when his clutch exploded, gifting world champion Michael Schumacher victory in his Ferrari. On Thursday, Coulthard told a news conference before Sunday's Austrian Formula One Grand Prix that the disagreement had been resolved on the spot and the subsequent reports of disharmony were wide of the mark.
"There really was no reason to kiss and make up because there was no break-up and that whole issue was sorted out within 10 minutes of the race being over," he said. "I've been made aware of people trying to make things run through the last week and it's just that there's nothing else really to talk about at the moment in Formula One.
"That particular incident has passed and now we're trying to get maximum points out of this event."
Watershed
Some had seen the comments between Dennis and Coulthard as a watershed in their relations, with the driver previously refraining from such critical remarks. They were also seen as proof that the team boss favoured Hakkinen, who escaped criticism after stalling his car on the grid at the Brazilian Grand Prix in April.
Coulthard said the problem in the new software, which made its debut in Barcelona, had been resolved.
"It was a very simple thing for the team to sort out," he said. "It was -- I was going to use oversight but I'm not sure if that's the right word -- it was just something that will never happen again. As to how quick we will be around the track relative to our competitors, none of us can know until we get out onto the track.
"But I think we can expect that we will be somewhere towards the front and it will come down to just how well the tyre works on our cars versus Ferrari and how good a job Michelin do with the BMW."
Coulthard is second in the championship on 28 points, behind Schumacher on 36. The Scot has finished second in Austria for the past three seasons.
---