Thursday May 10th, 2001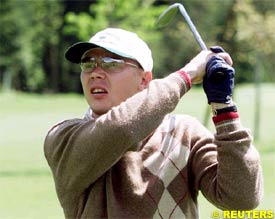 McLaren's Mika Hakkinen fears a bout of 'flu could hit his chances of winning Sunday's Austrian Formula One Grand Prix. The Finn, who seemed destined for victory in the last race in Spain until the clutch on his car exploded on the final lap, said on Thursday that he was not optimistic about the weekend ahead.
"I have really bad 'flu at the moment as you can probably hear from my voice," he told a news conference. "So it's not a very good feeling at the moment to start this weekend. I just have to try to do my maximum and hopefully get 10 points.
"But it's definitely going to be really, really hard."
Hakkinen won at the A1 Ring last year and in 1998 but has scored just four points in five races this year. He lags championship leader Michael Schumacher by 32. He is also 24 points behind team mate David Coulthard.
The Finn said the disappointment in Spain, a race which he had hoped would fire up his season, had taken a while to kick in.
"It took a little while but to be honest, not straightaway," said Hakkinen. "After the race, a couple of hours after. It was a big shock afterwards."
---