Friday May 11th, 2001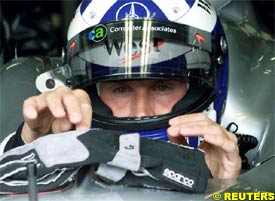 McLaren's David Coulthard, runner-up at the A1 Ring for the past three years, led Friday's free practice for Sunday's Austrian Grand Prix. The Scot, eight points behind championship leader Michael Schumacher's Ferrari, set a fastest time of 1:11.245 at the end of the afternoon session.
His Finnish team mate Mika Hakkinen, who led the last Spanish Grand Prix until his McLaren's clutch exploded on the last lap, shrugged off a dose of influenza to clock the second quickest time of 1:11.272.
The two times world champion, who has won in Austria twice in the last three years but has only four points to his credit this season, had been quickest in the morning. Ferrari's Brazilian Rubens Barrichello was third fastest in 1:11.401 on a dry track. Coulthard's time compared to Hakkinen's 2000 pole position of 1:10.410.
World champion Schumacher, the winner in Barcelona, went off into a gravel trap towards the close of the first session and was fifth fastest behind the Williams of his younger brother Ralf, who now lives in Austria. Ralf, winner at last month's San Marino Grand Prix, and his Colombian team mate Juan Pablo Montoya, runner-up in Spain, both went off in the first session.
Canadian Jacques Villeneuve had a technical problem at the start of the second session while his French BAR team mate Olivier Panis skidded into the gravel later on. It was another dismal day for Benetton, whose Renault-powered cars were the slowest of the field.
Briton Jenson Button was last of all in 1:15.570 after his engine blew five minutes into the afternoon session
Pos  Driver        Team                    Times                 
 1.  Coulthard     Mclaren Mercedes   (B)  1:11.245  218.592 km/h
 2.  Hakkinen      Mclaren Mercedes   (B)  1:11.272    +    0.027
 3.  Barrichello   Ferrari            (B)  1:11.401    +    0.156
 4.  R.Schumacher  Williams BMW       (M)  1:11.555    +    0.310
 5.  M.Schumacher  Ferrari            (B)  1:11.647    +    0.402
 6.  Heidfeld      Sauber Petronas    (B)  1:11.776    +    0.531
 7.  Frentzen      Jordan Honda       (B)  1:11.977    +    0.732
 8.  Raikkonen     Sauber Petronas    (B)  1:12.189    +    0.944
 9.  Panis         BAR Honda          (B)  1:12.259    +    1.014
10.  Villeneuve    BAR Honda          (B)  1:12.290    +    1.045
11.  Montoya       Williams BMW       (M)  1:12.299    +    1.054
12.  Irvine        Jaguar Cosworth    (M)  1:12.346    +    1.101
13.  Trulli        Jordan Honda       (B)  1:12.555    +    1.310
14.  Verstappen    Arrows Asiatech    (B)  1:12.705    +    1.460
15.  de la Rosa    Jaguar Cosworth    (M)  1:12.847    +    1.602
16.  Bernoldi      Arrows Asiatech    (B)  1:12.853    +    1.608
17.  Burti         Prost Acer         (M)  1:13.169    +    1.924
18.  Alesi         Prost Acer         (M)  1:13.288    +    2.043
19.  Marques       Minardi European   (M)  1:14.314    +    3.069
20.  Alonso        Minardi European   (M)  1:14.523    +    3.278
21.  Fisichella    Benetton Renault   (M)  1:14.833    +    3.588
22.  Button        Benetton Renault   (M)  1:15.570    +    4.325

All Timing Unofficial

---