Friday May 11th, 2001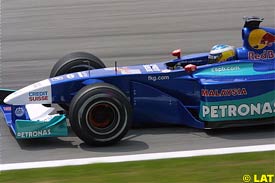 German Nick Heidfeld and team mate Kimi Raikkonen proved once more the Sauber's team form this season is no fluke by comfortably ending today's free practice session for the Austrian Grand Prix in the top ten.
Heidfeld, who scored points for the third time in 2001 by finishing sixth at the Spanish Grand Prix two weeks ago, continued with his impressive form at the A1-Ring, posting the sixth fastest time of the day at the wheel of the Petronas-powered C20.
"I had a pretty much trouble-free day," said Heidfeld. "We made positive adjustments to the car all through both sessions, and we kept going in the right direction. This is one of those circuits that tends to get quicker all the time, so it can be tricky working out whether or not you are genuinely improving the car.
"Fortunately the Bridgestones have been very consistent today and that has helped us a great deal to make sure that we are on the right track."
21-year old Finn Raikkonen was again one of the surprises of the day at yet another new circuit for him. Raikkonen was eighth quickest on today's session, and he was pleased with the way the traction control in his car was working after the Silverstone test.
"We arrived at a good set-up early on today and spent the rest of the time fine tuning it," Raikkonen said. "I'm happy with the software mapping for the traction control that we developed further after the Spanish GP in our test at Silverstone last week. I got held up by a Minardi otherwise my last run would have been quicker, but overall it's been a good day."
---