Friday May 11th, 2001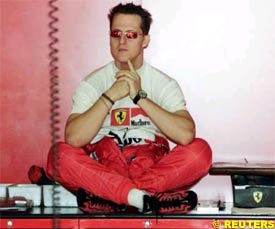 Championship leader Michael Schumacher complained of lack of mileage as he posted the fifth fastest time on today's free practice session for the Austrian Grand Prix.
Schumacher, who has never won a Formula One race at the A1-Ring, suffered a brake problem during the first part of the session and was unable to complete as many laps as he would have liked. However, the Ferrari driver stayed calm and was optimistic for tomorrow.
"This morning, we did not run as much as I would have liked, to be honest," admitted Schumacher. "That was because of a small problem with the brakes, which we fixed. That lost us some mileage. But all in all, it is looking pretty close.
"Even though the gap is four tenths, my last run was compromised by traffic, so I am not worried about the time difference. The difficulty at this track is finding a good set-up, which is essential here. You have to be very precise and it is very difficult to achieve that here.
"I am optimistic for tomorrow, because I do not feel that my lap times today are representative of what me and the car can do."
Meanwhile, team mate Rubens Barrichello endured a trouble-free session and was able to set the third fastest time behind the two McLarens of David Coulthard and Mika Hakkinen.
"Today, we did a lot of laps on a track where we never test and so you have to put in the kilometres to acquire the data," said Barrichello. "This track is different to most of the others we race on, but I think we understand how to tackle it.
"Now we must work out our tyre choice. It will also be very important to keep an eye on the weather. Generally, I am happy with this first day's work."
---