Friday May 11th, 2001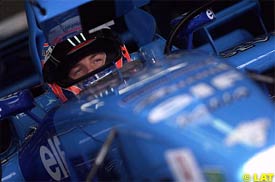 Friday's practice session for the Austrian Grand Prix was another tough day for the Benetton team, whose drivers Giancarlo Fisichella and Jenson Button were unable to set a competitive time and ended the day at the bottom of the time sheets.
Still struggling with their Renault-powered B201, Fisichella could only post the 21st fastest time while Button set the slowest time of the session after mechanical problems with his engine forced him to lose some valuable track time. Both drivers were hoping for better luck tomorrow.
"We have to work to improve our performance because we are lacking a lot of grip," said Fisichella. "The difference is too big between the other teams and us, but there was nothing we could do today."
Button, who was more than four seconds off the pace today, was again the victim of Renault's radical 110-degree V10 engine, and the team was still unsure what the problem was.
He said: "It's a shame that I didn't get more time on track, but my engine suddenly went bang without warning and so I had to pull over. We don't know yet exactly what the problem was, or what caused it."
---