Friday May 11th, 2001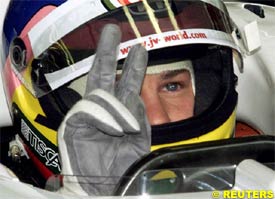 Canadian Jacques Villeneuve was confident with his car despite a slow start to his Austrian Grand Prix, setting the tenth quickest time in today's practice session.
The BAR driver, who achieved the team's first podium finish two weeks ago at the Spanish Grand Prix, admitted he was quite pleased with his day's work despite not being able to complete a quick lap.
The 1997 world champion said his car's balance was good, though he admitted there was still work to do before qualifying.
"It was not too bad," said Villeneuve. "The car seems to be running strong, it has been running strong all day so I am relatively happy. We did not manage to do a quick lap when everybody else was doing quick laps so we did not achieve our best time. I am happy with the balance of the car although we still have some work to do."
Frenchman Olivier Panis outpaced his team mate today despite spinning during the afternoon session. After finishing in ninth place, Panis admitted he was satisfied with his Honda-powered 003 car.
"We have had a productive day," said Panis. "We were able to make some set-up changes and achieve a good balance, however we still have some work to do for the qualifying session tomorrow.
"At the end of my second run I put on some new tyres and unfortunately I made a small mistake and spun. I am happy with end result today and I am feeling positive for tomorrow."
---