Friday May 11th, 2001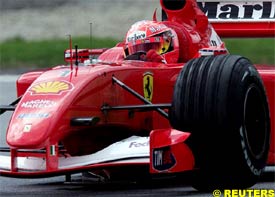 World champion Michael Schumacher admits the new electronic systems introduced recently are testing him to his limits.
Traction control, which help prevent wheel spin and improve grip in the wet, were used at the last Grand Prix in Spain for the first time since 1993, and the German claimed he was surprised with the complexity of the new systems.
"I am surprised by the intensity," Schumacher said after the opening practice sessions for the Austrian Grand Prix. "I thought anyone could handle it but you've got to really understand the new electronics in a technical sense. These are very complex things and you need a few runs to get it right."
"The buttons and their possible uses haven't changed but before you couldn't change things while you were driving, but now I can use every knob during the drive," the Ferrari driver said. "With all the combinations I have absolutely no idea how many possibilities there are.
"My meetings were tiring enough before. Now I sit practically the whole day with the engineers going through everything," the German said.
---