Friday May 11th, 2001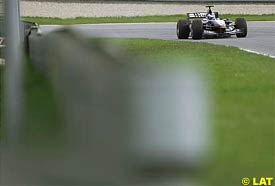 McLaren's Mika Hakkinen can be Formula One champion again despite his manager Keke Rosberg telling him he has no hope, according to Mercedes Motorsport boss Norbert Haug.
Former world champion Rosberg was quoted in British magazine Autosport this week as saying that Hakkinen was too far behind in the standings after five races. The Finn has just four points to world champion Michael Schumacher's 36.
"I am a realistic person and the pressure is off Mika now, because the championship's gone," he said. "I probably wouldn't say it that bluntly to Mika -- actually I did but I don't think a driver sees it that bluntly."
Haug said he disagreed with Rosberg's assessment of the two times champion's chances.
"Honestly I see it differently," he told a news conference after Friday's free practice, in which Hakkinen was second fastest behind his British team mate David Coulthard. "For sure it is difficult with a gap of 32 points but you know there are 12 races to go, nothing is impossible."
Haug looked back over the season and reminded reporters that several people had said at the start that Ferrari would be unbeatable after Michael Schumacher won for them in Australia and Malaysia. Then Coulthard won in Brazil.
"Then people said that Michelin does not perform and then they won a race," he added, referring to Ralf Schumacher's win for Williams at the San Marino Grand Prix on the French manufacturer's tyres.
He noted also that Michael Schumacher went three races in a row without a point last season, including retirement in Austria.
"In theory, Mika can win 120 points," he said.
Fully Motivated
Haug said Hakkinen's performance on Friday showed that he remained fully motivated despite having scored just four points in the five races so far. Rosberg had said that Hakkinen could now go out and enjoy the rest of the season and try to win without thinking of the championship.
And he had declared that Hakkinen did not feel he had been let down by McLaren in a season dogged by bad luck. The Finn had led the Spanish Grand Prix until the last lap when his clutch exploded five bends from the end.
"After eight or nine years I don't think the team lets him down," Rosberg had told Autosport. "I think they are very much in the same boat. I don't think he blames the team, I don't think the team blames him."
Haug insisted that both McLaren drivers received the same treatment, despite Coulthard being criticised in Spain by team boss Ron Dennis after he stalled on the grid and had to start from the back.
"It does not mean at all that David does not get the same support in the team as Mika. You all know that," said Haug. "He has the same equipment, he has the same treatment.
"Look at his performances so far this year and this is sorted out. We have full confidence, we put full confidence behind both our drivers and that's it basically."
---