Friday May 11th, 2001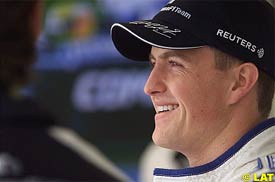 Both Ralf Schumacher and Juan Pablo Montoya endured a trouble-free practice session on Friday, with the German posting the fourth quickest time of the day, while the Colombian rookie was only eleventh.
Schumacher, winner of the San Marino Grand Prix at Imola, was only three tenths of a second slower than McLaren's David Coulthard, who set the fastest time today. However, the young German claimed tomorrow's qualifying will be very competitive and he hopes to be in the top six.
"I had a totally trouble-free practice today," said Schumacher. "We tried everything we wanted to and also made our tyre choice. However, I don't think it will be easy to get a top six grid position tomorrow, especially as the lap times of all the tap runners are very close."
Montoya, who like his team mate had minor a off-track excursion, concentrated on setting his BMW-powered FW23 for Sunday's race, and the Colombian was also happy with his progress.
"My main task today was to work on getting a race set-up for the car," Montoya said. "We tried both the tyres available. I know the track well from Formula 3000, but obviously this was my first opportunity to drive here in a Formula One car. I had no problems so it is a good start to the weekend."
---