Saturday May 12th, 2001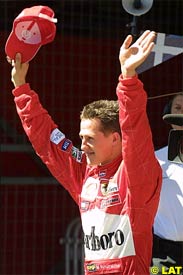 Ferrari's Michael Schumacher will start Sunday's Austrian Formula One Grand Prix from pole position alongside the Williams of Colombian hotshot Juan Pablo Montoya. The world champion lapped the A1 Ring in 1:09.562, shattering the 2000 pole time of 1:10.410 set by McLaren's Mika Hakkinen.
Schumacher had a late scare on his final flying lap when the Arrows of Dutchman Jos Verstappen spun in front of him and he had to take evasive action at speed, running wide into the gravel. It was the 37th pole of Schumacher's career and his fifth in six races this season. More impressively, it was the German's ninth in the last 10 races.
Montoya, second in the last race in Spain and sounding confident on a sunny weekend in southern Austria, set up what could be a dramatic start with a second fastest time of 1:09.686. The Colombian newcomer has a reputation for respecting no reputations and hit the headlines in Brazil when he audaciously overtook Schumacher to lead the race.
He also made a blistering start in Barcelona, running sixth at the first corner after starting in 12th place. Ralf Schumacher, Michael's younger brother and Montoya's team mate, was third fastest and will start alongside Ferrari's Brazilian Rubens Barrichello who was fourth.
The McLarens of double champion Mika Hakkinen and David Coulthard struggled, with Briton Coulthard seventh fastest and Finland's Hakkinen eighth.
Pos  Driver        Team                    Times                 
 1.  M.Schumacher  Ferrari            (B)  1:09.562  223.881 km/h
 2.  Montoya       Williams BMW       (M)  1:09.686    +    0.124
 3.  R.Schumacher  Williams BMW       (M)  1:09.769    +    0.207
 4.  Barrichello   Ferrari            (B)  1:09.786    +    0.224
 5.  Trulli        Jordan Honda       (B)  1:10.202    +    0.640
 6.  Heidfeld      Sauber Petronas    (B)  1:10.211    +    0.649
 7.  Coulthard     Mclaren Mercedes   (B)  1:10.331    +    0.769
 8.  Hakkinen      Mclaren Mercedes   (B)  1:10.342    +    0.780
 9.  Raikkonen     Sauber Petronas    (B)  1:10.396    +    0.834
10.  Panis         BAR Honda          (B)  1:10.435    +    0.873
11.  Frentzen      Jordan Honda       (B)  1:10.923    +    1.361
12.  Villeneuve    BAR Honda          (B)  1:11.058    +    1.496
13.  Irvine        Jaguar Cosworth    (M)  1:11.632    +    2.070
14.  de la Rosa    Jaguar Cosworth    (M)  1:11.752    +    2.190
15.  Bernoldi      Arrows Asiatech    (B)  1:11.823    +    2.261
16.  Verstappen    Arrows Asiatech    (B)  1:12.187    +    2.625
17.  Burti         Prost Acer         (M)  1:12.206    +    2.644
18.  Alonso        Minardi European   (M)  1:12.640    +    3.078
19.  Fisichella    Benetton Renault   (M)  1:12.644    +    3.082
20.  Alesi         Prost Acer         (M)  1:12.910    +    3.348
21.  Button        Benetton Renault   (M)  1:13.459    +    3.897
22.  Marques       Minardi European   (M)  1:13.585    +    4.023

All Timing Unofficial

---