Saturday May 12th, 2001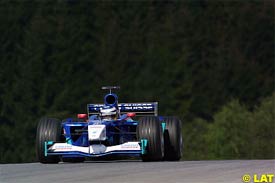 An impressive Nick Heidfeld achieved his best qualifying position in Formula One as he posted the sixth fastest time for the Sauber team, outqualifying both McLaren drivers David Coulthard and Mika Hakkinen.
The German driver, who lies fifth in the championship after an impressive start of the season where he has scored points in three of the first five Grands Prix, admitted it was a tough session at the A1-Ring circuit due to the changing winds, which prevented most of the drivers to improve in the final part of qualifying.
However, Heidfeld was happy both with the result and with his Petronas-powered Sauber C20.
"Qualifying was difficult today because of the changing wind condition," said Heidfeld. "You had to be lucky and be out on the track at the right time, because things changed quite quickly.
"The car was good today, so I made only one small set-up change and after that just played around with the tyre pressures. I'm happy with sixth place, my best qualifying effort to date."
Rookie Kimi Raikkonen confirmed the Swiss team' excellent form by qualifying in ninth position. The Finn, though, was not very happy with the way his session went, as he struggled with traffic and suffered some problems with his gearbox which slowed him down.
"My first run was good, but on the second Villeneuve blocked me," Raikkonen explained. "I really don't know why. He let a Minardi go by, then it looked as though he had seen me but then he speeded up again and ruined my lap.
"The last run was also good until Frentzen went wide just in front of me, and then I experienced the same gearshift problem that I had this morning."
---