Saturday May 12th, 2001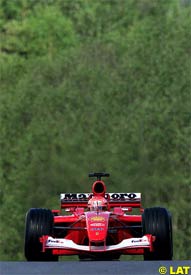 Michael Schumacher refused to write off McLaren drivers David Coulthard and Mika Hakkinen despite their poor qualifying positions in today's session for Sunday's Austrian Grand Prix, the sixth event of the 2001 season.
Schumacher took advantage of the changing wind in the second part of the hour-long session to clinch his fifth pole position of the season, and the German saw how his championship rival Coulthard had to settle for seventh place, while team mate Hakkinen was eighth.
Despite their poor qualifying effort at a circuit where overtaking is very difficult, championship leader Schumacher refused to discount his rivals' chances in tomorrow's race.
"I am not discounting McLaren," Schumacher said. "If they make a good start they could be fourth or fifth and then it will depend if they can move up from there.
"On this circuit, the wind, which changed direction, can be an important factor and you also need to have a special set-up and get everything right. The start will be critical. With launch control, all the front runners should get away at the same time and it will be vital to be first in the first corner. Then, you can dictate the pace and force others to run the race you want."
Team mate Rubens Barrichello admitted he was disappointed after qualifying in fourth position behind the two Williams of Juan Pablo Montoya and Ralf Schumacher, the Brazilian complaining about the traffic at the A1-Ring.
Barrichello said: "My session was affected by traffic and it was very hard for me to get a clean lap. At the end, there was a lot of dirt on the circuit and that meant the plan to go for four runs was not ideal. I am always very close to pole, but I am disappointed not to have managed better than fourth place."
---