Saturday May 12th, 2001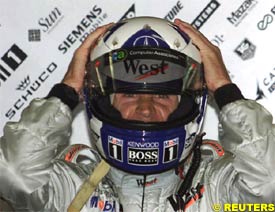 McLaren driver David Coulthard remained positive despite a poor qualifying session for Sunday's Austrian Grand Prix at the A1-Ring circuit.
Briton Coulthard, who is second in the championship behind Michael Schumacher, will line-up eighth on the grid, one place ahead of his team mate Mika Hakkinen, after a dismal session on Saturday.
Coulthard had expected better after topping the times in practice, but despite his low grid position he is staying upbeat ahead of a race where a win could take him to the top of the championship.
"It is very disappointing for everyone in the team but we need to keep the momentum going in the season," said Coulthard. "We didn't get on top of the car and the balance shifted. We just didn't have time to sort it out."
Hakkinen, meanwhile, was bitterly disappointed with his position on the grid as he realistically needs a win in Austria to stay in the championship race.
"It is quite a big gap," said Hakkinen. "I would like to be able to explain why but it is more complicated than that. We don't know what went wrong."
---