Saturday May 12th, 2001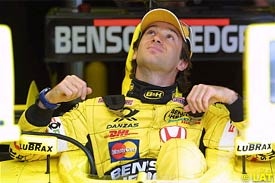 Jordan drivers Jarno Trulli and Heinz-Harald Frentzen endured mixed fortunes in today's qualifying session for the Austrian Grand Prix, with the Italian posting the fifth fastest time of the day while the German was way down in eleventh.
Italian Trulli, who has finished in the points in the last three races, set the early pace during the session, but he, as many other drivers, was unable to improve during the final part of the day. Nevertheless, Trulli was happy with his car's performance.
"I did a very good first run," said Trulli. "Then I had a drop off in performance which we need to investigate. I couldn't improve my lap times, which was a shame because, otherwise, the car was running very well.
"We had found quite a good balance for qualifying and, right from the beginning, the car was quick. So it's a shame I couldn't go quicker but, after the problems this morning, I'm pretty happy."
Frentzen, on the other hand, was far form happy with the balance of his Jordan EJ11 and ended the session more than eight tenths of a second behind his team mate. The German driver, who admitted he made a strange mistake during his first run, also had problems with traffic.
"I had to abandon my first quick lap when I made a mistake and accidentally hit the pit lane speed-limiter," said Frentzen. "I set what would turn out to be my best lap on my second run but I was struggling with the car. The balance was not as good as it had been in the morning and we couldn't improve it.
"On top of that, I had traffic problems and, because of the way the laps had worked out, I was carrying a bit more fuel than I needed, so the extra weight didn't help either. All in all, I'm obviously disappointed to be this far back on the grid."
---