Saturday May 12th, 2001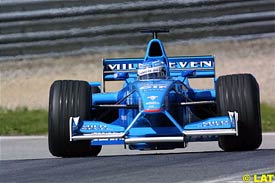 Engineering Director Pat Symonds admitted the struggling Benetton team had more problems than usual in today's qualifying session, as their drivers Giancarlo Fisichella and Jenson Button put another disappointment performance at the A1-Ring.
Italian Fisichella, who could only complete two of his expected three runs during the session, qualified in a low 19th position, while team mate Button had to settle for a place in the last row of the grid, only in front the Minardi's Tarso Marques.
"A difficult qualifying session for us today, which was fraught with a few more problems than normal," said Symonds. "Giancarlo only managed two runs, as he felt his engine go tight on his third run and wisely abandoned the lap and came into the pits. As the spare car was set up for Jenson there wasn't enough time to get him out for a final run.
"In Jenson's case, he was making steady progress, making good set-up changes throughout. But on his last run he locked the brakes going into turn two and lost any advantage he might have gained. "
---