Saturday May 12th, 2001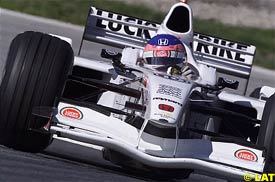 Canadian Jacques Villeneuve admitted he did not drive well during Saturday's qualifying session for the Austrian Grand Prix, as the British American Racing team endured a difficult day with only one driver in the top ten.
The hard charging Villeneuve had to settle with 12th position after running off the track in several occasions, and he was outqualified by team mate Olivier Panis for the third time in six races. Villeneuve, however, was pleased with his car and is looking forward to Sunday's race.
"I did not drive very well today," confessed Villeneuve. "I tried too hard and made too many mistakes.We also made some changes from this morning but we went the wrong way and there was not enough time to change it back during qualifying. It is disappointing but the car felt good so we will be looking to have a strong race tomorrow."
In a very close qualifying session - where the top ten drivers were covered by less than a second - Frenchman Panis claimed he was not unhappy with tenth position and as his team mate, he said his car's handling was good.
"The team and the engineers worked hard to make the car as good as possible to suit the conditions during qualifying and I am happy with the end result," said Panis.
"It was a hard session and during the last run I pushed really hard and achieved a good time but it was very close, with only two tenths between 5th and 10th place on the grid. I am not unhappy because the car has been running well all weekend."
---