Saturday May 12th, 2001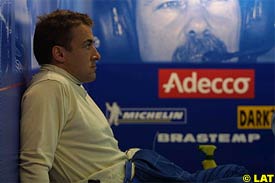 Brazilian Luciano Burti and Frenchman Jean Alesi blamed the Prost team's AP04 for their poor performance in today's qualifying for the Austrian Grand Prix at the A1-Ring track.
Both drivers claimed the Acer-powered chassis did not suit the slippery Austrian circuit, and Burti had to be content with 17th position while veteran Alesi was down in 20th place.
"Our performance throughout the weekend confirms that this track does not suit our car," Burti said. "It's a shame because at the previous Grand Prix (Spain) the car had performed quite well and the test session in Valencia last week had been good as well.
"But the conditions here are radically different. The track was still very green today, and we have not totally overcome the difficulties we had yesterday. Although we managed to improve the car throughout the session, I couldn't get a better qualifying position."
A frustrated Alesi posted his worst qualifying effort of the year and, being outqualified by Burti for the second consecutive time, the Frenchman was not happy.
"Since the start of practice, the car has shown to be very sensitive to any set-up changes on this track and I haven't been able to understand its behaviour," commented Alesi. "Today's qualifying has been particularly difficult, and on my first fast lap I had a big spin. My position on the grid is the result of a frustrating weekend. "
---