Saturday May 12th, 2001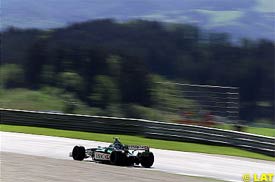 Eddie Irvine complained of traffic problems in Saturday's qualifying for the Austrian Grand Prix as he continued his mid-field struggle with the Jaguar team.
Irvine qualified in 13th position after three of his four attempts were hampered by the traffic in front of him, and the Ulsterman claimed he could have been quicker. However, being almost six tenths of a second behind BAR's Jacques Villeneuve, he would have been unable to improve his position.
"That was a very messy qualifying session," said Irvine. "My car didn't feel very good during the first run and Alesi also spun in front of me during my attack lap. I had no choice but to dive into the pitlane to avoid him. My second lap was OK but the third lap was a write-off.
"Hakkinen held me up during the fourth run but I don't think I could have climbed much higher up the order today. If you look at my sector times, I guess I could have been a bit quicker but to be honest, it wouldn't have made too much difference."
Spaniard Pedro de la Rosa, in only his second Grand Prix with the Milton Keynes-based team, was much happier after improving on his previous performance in Spain. De la Rosa, however, felt he did not he get the best out his car.
"We slowly made progress through the session after the problem I suffered this morning which was a broken drive shaft," said de la Rosa. "The car felt quite good throughout the session but I'm obviously not happy because on my last two runs I had Burti and Frentzen in my way.
"My main objective was to improve upon my morning warm-up times and I achieved that. I certainly don't feel as if I got the maximum out of today's qualifying but this is my first proper qualifying session with the Jaguar R2 and it's good to have two cars close to each other on the grid."
---