Saturday May 12th, 2001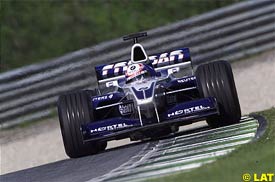 Michelin boss Pierre Dupasquier believes most teams should pick a one-stop strategy for Sunday's Austrian Grand Prix at the very slippery A1-Ring circuit.
The French tyre manufacturer continued today with their impressive performance in their first season in Formula One after an absence of 16 years, as Williams drivers Juan Pablo Montoya and Ralf Schumacher qualified second and third respectively.
Dupasquier confessed Michelin were happy with their tyre choice for the Austrian race, and he suggested the teams are going to choose a one-stop strategy tomorrow.
"It will probably be a one-stop race, even if there remains a slight concern about what condition the soft tyres are going to be in at the end of a stint," Dupasquier said. "It will all depend on what the track is like, but we have no concerns at all about safety.
"Each chassis uses tyres in a slightly different way and, in that respect, the same type of tyre can produce a different level of performance from team to team. All I can say is that the two tyre compounds Michelin has brought along are effective. We were not mistaken with our choice."
"On a circuit that offers a high level of grip, you lose aerodynamic downforce if you stray off line, but the nature of the track allows you to recover a sliding car. But on a low-grip circuit such as this, the slightest error can be costly. That will be just as true during tomorrow's race."
---