Saturday May 12th, 2001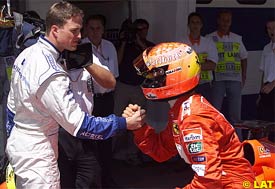 Ralf Schumacher has downplayed his team's chances for Austrian Grand Prix success and firmly denied the possibility of beating his brother Michael on Sunday.
The young German, who won his first Grand Prix in San Marino earlier this season, believes his Williams team will not be able to replicate its success from Saturday qualifying on race day.
"If we are a bit lucky tomorrow we might get a podium," said Schumacher despite being in an obviously enthusiastic and upbeat mood after qualifying in third place. "But the way Michael could have outdone his qualifying today, I am sure he could have been four tenths quicker than we are.
"When I am continually first in qualifying then I will stop downplaying because then it's realistic to do so. I know about my car and I know about my problems, obviously," he continued. "You don't, and that's for good reason, so we will leave it like that."
Schumacher also voiced concerns over temperatures which although currently looking promising for a sunny race day could do anything in the Austrian hillsides, and he admitted that cooler temperatures would not make him at all happy.
"Michelin is very good in hot temperatures but average in the cold," he said. "If we have ten degrees ambient tomorrow then we could be in trouble. At the moment it looks like Bridgestone is the better race tyre. We have a tyre, especially our front tyre, which is a bit weak here. We get a lot of understeer and especially with high fuel it could be a problem."
---