Saturday May 12th, 2001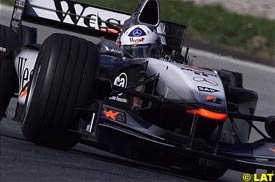 McLaren boss Ron Dennis offered a simple excuse after watching his cars qualify for the Austrian Grand Prix on the fourth row of the grid.
"The grid position says it all really. We didn't do a very good job today. There was no huge problem, we just set the cars up incorrectly," he said on Saturday. "It was only after the qualifying, coming round, that we realised we had screwed it up. Nobody is perfect."
The sight of David Coulthard, runner up in the championship standings and winner in Brazil, qualifying seventh with teammate mate Mika Hakkinen eighth was the main shock of the day at the A1 Ring.
Coulthard had been fastest in free practice on both Friday and Saturday and McLaren have been dominant in Austria in the past. Hakkinen, with just four points to his credit from five races and 32 adrift of Ferrari's Michael Schumacher, has won twice here in the last three years. Last year and in 1998 McLaren finished one-two and Coulthard has been runner-up for four years in a row in Austria.
Instead, Schumacher took pole and both Williams qualified comfortably ahead of the McLarens. The McLaren drivers' initial reaction was one of determination mingled with disappointment.
"It is quite a big disaster, it is quite a big gap," said Hakkinen. "I would like to be able to explain why but it is more complicated than that. We don't know what went wrong."
Heavy Price
Coulthard said the balance of his car had changed since the morning, with more oversteer than before.
"We have to take it on the chin. We didn't perform today and must get the best out of it tomorrow. It was very disappointing for everyone on the team but we've got to keep the momentum up," he said.
Hakkinen said he had suffered an engine problem on his last lap, a condition later diagnosed by Mercedes motorsport boss Norbert Haug as due to a small loss of water pressure. Dennis said both his drivers had struggled to get a clean lap in as all drivers left it late to get out knowing that the track conditions usually got faster.
He said the fact that both drivers followed similar set-up choices had not helped matters since usually the differences between cars highlighted any problems.
"It was very easy for us yesterday...both drivers had good performances this morning too and the engineers and drivers agreed to go in the same direction," he said.
The McLarens appeared slower out of the corners than previously rather than being down on straight-line speed.
"We may pay a heavy price for our grid positions but as far as our competitiveness goes, we are not concerned," he said. "You don't just go backwards from sitting at the front in all practice sessions without a reason and we just screwed it up," he insisted.
Mercedes motorsport boss Norbert Haug added that he was confident the team could fix the setup problems in Sunday's warm-up and still have a good race.
"The team and the drivers couldn't find the right set up. That we are fast, we demonstrated yesterday and in this morning's practice."
---