Saturday May 12th, 2001
By Alan Baldwin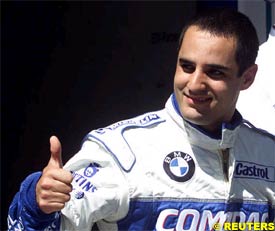 Formula One rookied Juan Pablo Montoya is swearing less over the team radio and impressing his Williams Formula One team more and more.
"I think he's remarkable. Clearly very talented," said team owner Frank Williams after the confident Colombian, runner-up in Barcelona two weeks ago, qualified in second place on Saturday for Sunday's Austrian Grand Prix.
"Given that this is only his sixth Grand Prix weekend, his performance is remarkable."
Montoya, a former Williams test driver, arrived in Formula One after two seasons in America in which he won the CART title and the Indy 500. The Colombian had something of a reputation before he arrived in Europe but Williams said his behaviour since he came into the paddock had been little short of exemplary.
"He used to swear on the radio a little bit too much, he got a bit excited, but that stopped after the second or third race. His temperament is very straightforward and calm. In fact when there is trouble he is actually amazingly calm.
"He is not arrogant within the team. The team like him very much because he mixes so well with everybody. He stays quite late in the evenings too sometimes. He's a good team man and a fine driver."
Williams said that Montoya's lack of Formula One experience could work against him this season, however. "They all get tested in Formula One and he's got a bit to learn still," he said.
Not so Smooth
He also said that Montoya's lively driving, while highly entertaining with his aggressive style, could also be a negative since he was not as smooth as team mate Ralf Schumacher. The Colombian failed to finish his first four races, despite leading in Brazil in the third race of the year, but then came good in Spain when he took second after the McLaren of Mika Hakkinen broke down on the last lap while leading.
BMW Motorsport director Gerhard Berger said he had discussed technique with Montoya as a former driver to help speed up his learning curve.
"With Montoya, it is very clear that he has the potential of being one of the top runners," he said. "He has speed, he has the natural talent. The question is how long it is going to take him until he can use this potential and transfer it into results. Normally you need a year to understand what's going on, to use the tyres right...to make the setup right."
Berger said he could help in some areas but Montoya knew exactly what he had to.
"He showed today that it's just a question of time before he can regularly get the maximum out of his car."
The Austrian said Montoya remained "a bit sensitive" to qualifying and the way the weekend starts, with frustrating technical problems that can limit the amount of track time in practice. But Berger was delighted to have two cars in the top three on the grid, with Ralf qualifying third in Williams' best showing on a Saturday in years.
"It is better than we were expecting," he said. "We really have a double chance."
---