Sunday May 13th, 2001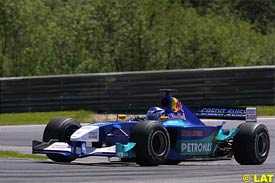 Young Finn driver Kimi Raikkonen put another brilliant performance in his debut season in Formula One to finish in fourth position for the Sauber team at Sunday's Austrian Grand Prix, the sixth round of the championship.
The 21-year old rookie, who has never competed at the A1-Ring before, ran an impressive race on his way to his second point-scoring position of the season, having finished sixth in his Grand Prix debut in Australia.
Despite enduring a problem during his pit stop, where he lost more than 18 seconds, Raikkonen was able to maintain his position, giving his Sauber team their 100th Formula One point.
"It's been a long wait since Melbourne, so I'm very happy not just to score another three points, but to take Sauber's overall total beyond 100," said Raikkonen. "I had a very good race, though maybe there was some luck at the start.
"The car was good all the way through and I could keep pushing hard. People are making a lot of fuss because I have the same points now as Mika Hakkinen, but what matters to me is that as a team we had another great result today."
Team mate Nick Heidfeld was not so lucky and, after stalling his car on the grid due to a failure in its launch control system, the German has to settle with ninth position.
"I did a manual start to lay some rubber on the formation lap, but at the proper start launch control just didn't work," explained Heidfeld. "After that I wasn't really in the race because I was a lap behind. I got stuck behind Irvine, then I had to let Villeneuve through.
"Then I had a very long pit stop when I had some clutch trouble; fortunately the team deliberately dropped the car off the jack and I managed to get away again. It was really hard to keep my motivation, but you never know what will happen and you have to keep pushing hard."
---