Sunday May 13th, 2001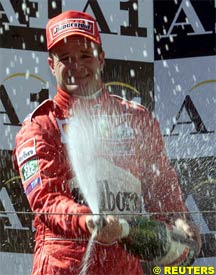 Rubens Barrichello fought back his emotions on Sunday as he told how Ferrari had ordered him to move over for team mate Michael Schumacher at the Austrian Grand Prix. The Brazilian had been in second place, after leading for a while, until the final corner when he let the world champion past.
"The team manager has asked me to do that," he said when asked about it.
Asked at which stage of the race he had been asked to move over, he replied simply: "many times".
"I have very little to say at this press conference unfortunately. I still have to go down and talk to the team and clarify things. I just don't want to make any statement before I talk to the team. I put myself into a situation in Malaysia and unfortunately I cannot open my heart right now."
Barrichello complained openly in Malaysia when Schumacher overtook him in the rain after the Brazilian had urged caution. Schumacher, faced with repeated questions about team orders, defended the team's action and said it was necessary to limit the advantage gained by McLaren.
The German's main rival, David Coulthard, was leading the race and third place for Schumacher would have slashed the Ferrari driver's championship lead to two points.
Asked whether he felt he deserved the six points in Austria, following a lucky win in Barcelona two weeks ago when Mika Hakkinen's McLaren broke down while leading on the last lap, Schumacher replied: "Maybe not."
"Imagine at the end of the season I miss the championship by two points," he said. Schumacher conceded that Barrichello had him beaten during the race and paid tribute to him.
"He is a very fast racing driver. I don't think I need to be ashamed that he is faster than me," he said.
---