Sunday May 13th, 2001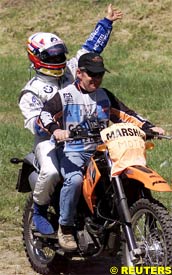 Ralf Schumacher believes Williams lost the perfect chance to test the competitiveness of their Michelin tyres at Sunday's Austrian Grand Prix at the A1-Ring circuit.
Schumacher, winner in San Marino this year, and team mate Juan Pablo Montoya made the perfect start as they led the event, but both retired to leave the German driver thinking of what might have been.
"I had a great start to the race which proved our launch control worked really well," said Schumacher. "I then had a brake pressure problem so my pedal got longer and longer and in the end I nearly had no pressure left.
"I had to retire, that is all. We have seen today that it could have been difficult to stay with the Bridgestone runners but we will never find out."
Colombian Montoya retired from the race on lap 42 with a hydraulic fault on his car, after an incident with Michael Schumacher had cost him the lead of the race.
"I made a good start and during the race the car was behaving better and better," said Montoya. "What happened with Michael was just a racing incident, he braked quite late.
"I braked late as well and locked the rear tyres and ran wide. At the end we lost hydraulic pressure. I got the alarm two corners before and I knew that was going to be it."
---