Sunday May 13th, 2001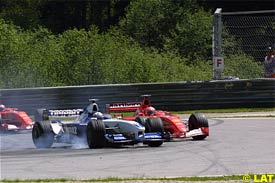 Colombian Juan Pablo Montoya refused to be cowed by Michael Schumacher on Sunday after the world champion accused him of blocking tactics at the Austrian Grand Prix.
"I'm racing, so I'm not going to let others by. If they can't get by me, then they should get out," Montoya said in reference to the incident on the 16th lap after overtaking the German at the start.
Schumacher, who eventually ended second behind McLaren's David Coulthard, tried to go past on the outside but Montoya appeared to block the manoeuvre, locking his brakes in the process and bringing both cars to a halt. Schumacher gesticulated angrily at Montoya, who was forced to retire on the 42nd lap with a hydraulic problem.
"He just thinks - 'I'm Michael, so you've got to let me by'" declared Montoya, in dismissive mode.
Williams technical director Patrick Head put it down to a mere racing incident and dismissed charges that Montoya's action had been deliberate.
"Michael was challenging Juan Pablo's position, who in turn was defending it. It was just a racing incident with a small mistake from Juan Pablo," said Head.
---