Sunday May 13th, 2001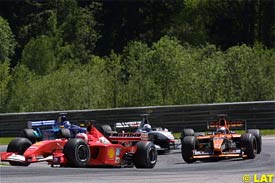 Dutchman Jos Verstappen gave the Arrows team their first point of the 2001 season following a good performance at the Austrian Grand Prix on Sunday, where he benefited from a two-stop strategy to finish in sixth place.
Verstappen made an impressive start, moving from 16th to seventh place before the safety car was deployed after four car stalled on the grid, and then he began an impressive charge towards the front, running in second place at a stage of the race.
"This point is very important for the team and for me as well," admitted Verstappen. "They all did a fantastic job. The strategy worked well for us as we could overtake at the beginning of the race and I think it was there that we earned the point.
"I have to say that I really enjoyed this race, especially the beginning, as I love to race against the top guys. I was a little lonely in the middle of the race but I just concentrated on being as smooth as I could. The car is definitely developing so let's hope this is the first of many points."
Brazilian Enrique Bernoldi, who was also moving up very quickly thanks to the light fuel load of his Asiatech-powered 22, was forced to retire due to a hydraulics problem.
"That was showing all the signs of being a really good race for me," said Berboldi. "I had a good start and the car felt really good. It was pretty hard passing Villeneuve so I was pleased I pulled that one off.
"After that I was still going well, having a fantastic race, but I had a hydraulics problem and had to pull into the garage. It's a real shame but I'd like to say that I'm really pleased for Jos and all the team. Well done."
---