Sunday May 13th, 2001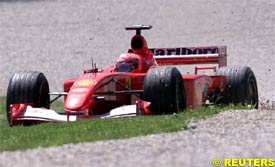 Formula One world champion Michael Schumacher conceded on Sunday that McLaren's David Coulthard was now his main title rival, accepting Mika Hakkinen's chances were all but finished.
Briton Coulthard won the Austrian Grand Prix while Ferrari's Schumacher was second. The German now leads Coulthard in the championship by four points.
Two times champion Hakkinen stalled on the grid for the second time in six races and was left 38 points adrift of Schumacher.
"As you can see, with Mika not finishing the race I think it is pretty clear who McLaren will send for the championship.
"There is very little chance for Mika to win the championship now in my view," said Schumacher.
Schumacher had said before the race that he still considered Hakkinen to be his main rival despite his failure to score points in the early rounds of the championship.
---