Sunday May 13th, 2001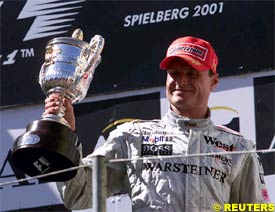 David Coulthard strengthened his quest for the World Championship with a win in Austria but refused to count out his McLaren team mate Mika Hakkinen as a title contender, despite a disastrous race for the Finnish driver.
After Hakkinen failed to get off the grid and then retired after just one lap, when he had rejoined the race three laps down, Coulthard went on to take his 11th career win.
Coulthard is still second in the standings, but on 38 points is just four behind leader Michael Schumacher. Hakkinen, in contrast, has just four points.
"I don't know about the championship," said Coulthard. "None of us has a crystal ball to see into the future. There is a lot of points still to play for.
"In theory, the guys at the front of the championship could not finish a few Grands Prix and Mika could win a few and he could be there. Naturally, the further back you are the more difficult it is."
Hakkinen was naturally despondent after his early exit and indicated that a thorough investigation will be needed to conclude the cause of his retirement.
Hakkinen said: "I don't know what happened, but as everybody could see, the car just stopped on the grid. I can't understand what happened.
"At the moment I'm really uncomfortable because I'm not sure if it was my fault or something technical. It is not looking to promising for me (in the championship race)."
Coulthard refused to spray champagne on the podium as a mark of respect to Paul Morgan, the managing director of engine suppliers Ilmor, who died in a plane crash on Saturday.
---