Sunday May 13th, 2001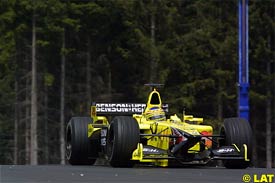 The Jordan drivers were out of contention at the Austrian Grand Prix before they were able to make it to the first corner of the A1-Ring circuit on Sunday, after both Jarno Trulli and Heinz-Harald Frentzen were unable to move when the green lights went on.
Trulli, who had qualified in a promising fifth position, stalled his car on the grid due to a problem with his launch control system, and though he could get going after losing a lap, he was then black-flagged for leaving the pit lane while the red lights where still on.
"The launch control system didn't work so the engine stalled," said Trulli. "The system wasn't working properly during the warm-up this morning and, although we made some adjustments, it clearly wasn't enough.
"I was pushed into the pit lane and re-started the race behind the Safety Car. I was shown some blue flags as I was one lap down, but then a black flag for leaving the pit lane while the exit light was red. I am very disappointed."
Team mate Frentzen completed a very disappointing race for the Silverstone-based team, as he too was unable to get his car moving at the start after his gearbox broke.
"The gearbox broke at the start and totally jammed the gears," said Frentzen. "We tried to fix the problem but couldn't, so that was it. I'm very disappointed as the car felt very good and well balanced this morning."
---