Sunday May 13th, 2001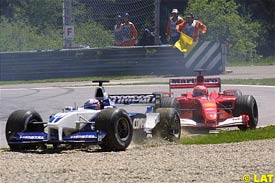 World champion Michael Schumacher admitted today he will "have a word" with Williams driver Juan Pablo Montoya after an incident in the Austrian Grand Prix.
German Schumacher, who finished second in his Ferrari, was unhappy with Montoya after the Colombian driver appeared to block his overtaking move for the lead of the race. Schumacher was forced to brake and run wide as Montoya missed the braking point and careered forwards and into the gravel. Schumacher vowed after the race to talk with his rival.
"I was a little bit upset, obviously, because there was no way he could make that corner and all he was trying to do was take me with him out of the circuit," said Schumacher, who finished second after team mate Rubens Barrichello allowed him past on the final lap.
"To do something to me then, I thought it wasn't really what he should have done because I had to go into the grass. I couldn't turn in and I nearly hit him, so it wasn't ideal. I'll be sure to have a word with him."
Schumacher lost out to Montoya and brother Ralf at the start of the race because of a problem with the launch control on his Ferrari and he warned that others will be affected by it this season.
He added: "We had some kind of problem. Certainly the car didn't start in the way it was supposed to start, and basically I did a manual start afterwards. I'm sure we will find out why.
"You know all these systems are still very new and like we have seen with David, something happened to him in Barcelona with the system, now it happened to me. I guess a few other people will get surprises until everything is reliable."
---