Sunday May 13th, 2001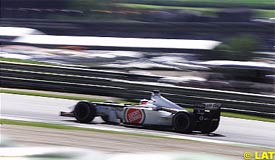 British American Racing's Olivier Panis helped the Brackley-based team move a step closer to their Honda-powered Jordan rivals after finishing in fifth position at today's Austrian Grand Prix.
Having qualified in tenth place on Saturday, Frenchman Panis took full advantage of the retirements in front of him to give BAR more points after their first podium finish at the Spanish Grand Prix two weeks ago. Panis admitted he was pleased with the result and is looking forward to improve the car for the Monaco race.
"I am very happy for the team and myself with the result today," Panis said. "The two points are very important to us as we look to close the gap in the championship. Jacques had a podium in the last race and I collected points today so I am happy with the progress that we are making.
"Next week we will be in Valencia testing and we will be looking to make some improvements as we prepare for the next round in Monaco."
Jacques Villeneuve had to make do with eighth place after an eventful race where he spun when trying to pass Jaguar's Eddie Irvine. The Canadian was then given a stop-go penalty for speeding in the pitlane, ending his chances of finishing in the points.
"It's a good result for the team," Villeneuve said of Panis' fifth place. "A lot of cars did not get off the line but I had a reasonable start. The first two corners did not go well and I picked up a huge amount of push in the race and I have no idea why. I am disappointed not to have collected points today."
---