Sunday May 13th, 2001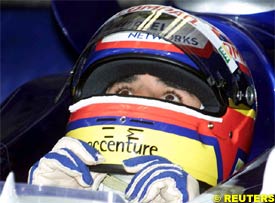 Ferrari's Michael Schumacher accused Juan Pablo Montoya of not looking where he was going after the Williams driver blocked him at Sunday's Austrian Grand Prix.
"He basically wasn't looking where he was going, he was looking where I was going to make sure I went with him. That was a little bit silly," said the German.
Schumacher had been on pole with Montoya alongside him on the front row of the grid for the first time in the Colombian's brief Formula One career. Montoya took the lead into the first corner after Schumacher suffered a problem on the grid with the new electronic "launch control" start systems.
Schumacher's brother Ralf also went past in the second Williams but retired on lap nine with brake problems and Michael began to harry the slower Montoya. He tried to go past on the outside on lap 16 but the Colombian blocked the manoeuvre, locking his rear wheels and bringing both cars to a near standstill as other drivers seized their chance and went past.
World champion Schumacher was left with no choice other than to brake or go off as Montoya closed the track to him.
"There was no way he could make that corner," said Schumacher.
Otherwise Fair
"I didn't really enjoy that moment, because otherwise things were fair," said Schumacher. "Racing is hard, he made it as hard as he could and I tried to get by him. Sooner or later I would have gone by anyway."
Montoya was unrepentant for his part and said it had been simply a racing incident.
"I'm racing, so I'm not going to let people by. If they can't get by me, then they should get out," he said. "He thinks 'I'm Michael so you've got to let me by.'"
BMW Motorsport director Gerhard Berger, who has been very impressed by the Williams driver so far this season, allowed his disappointment to show.
"We all know well that Montoya doesn't really make room (for others). You only come out the winner from something like that if overall you remain in the lead," he said.
Schumacher said at first he would speak to the Colombian about the incident but later moderated his stance.
"I think I should first watch the video," he said. "Maybe I'm wrong. Maybe when I watch the video I will see it slightly differently because when you are in a racing car when it happens, although you are there, you don't see all the factors.
"You don't see what kind of trouble he may have. First I will watch the video and if I think I have to say something to him then I will do," said Schumacher
---