Sunday May 13th, 2001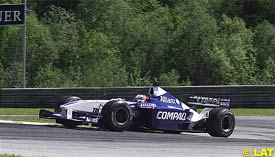 French tyre manufacturer Michelin were disappointed after not being able to score any points at Sunday's Austrian Grand Prix, but they admitted they were encouraged with their performance level at the A1-Ring track.
The Michelin-shod Williams of Juan Pablo Montoya and Ralf Schumacher retired from the race after a promising start, where the Colombian led in front of his German team mate, and Michelin's boss Pierre Dupasquier admitted their first non-scoring finish since Brazil was not what they had expected after yesterday's qualifying.
"We are a little bit disappointed that neither of the quickest two Michelin runners made the finish, but we are happy with our level of performance throughout the weekend," said Dupasquier.
"Our choice of compounds proved to be correct and that has encouraged us to carry on in the same vein. I would like to congratulate Williams and BMW for the strength of their performance in Austria this weekend."
Dupasquier also explained the drop of performance on Montoya's tyres at the start of the race, when the Colombian was unable to lap as quick as his rivals.
"From the ninth lap until the 15 th Juan Pablo's lap times faded a little, and that could partially be blamed on the state of his tyres," admitted Dupasquier. "But we had foreseen that this might be the case: the grooved tyres are at their best when new. There follows a significant drop-off in performance after which they recover their potential.
"The tyres chosen by Williams were particularly sensitive to this characteristic. Juan Pablo set some good times at the start of the race before slowing a little, but then he picked up his pace again. Before his retirement he had set the second fastest lap of the race behind Michael Schumacher, and despite not finishing he retained fourth fastest lap overall."
---