Saturday May 19th, 2001
By Lewis Franck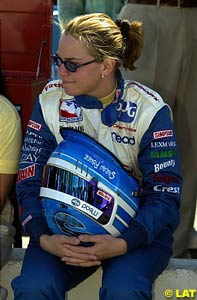 Although recent Indy 500 winners Jacques Villeneuve and Juan Pablo Montoya went on to Formula One careers, Sarah Fisher, Sam Hornish Jr. and other top young Indy drivers may not follow the same path.
The 20-year-old Fisher, who finished a career high second at the Miami Homestead oval in April, developed on short ovals in the U.S. midwest and the glamorous Formula One circuit lies outside her immediate plans.
"Formula One, that's a dream, way far away. We're just beginning. Of course if I had the opportunity I wouldn't turn it down, said Fisher, who qualified 15th for this year's Indy 500."
Sam Hornish Jr., a sophomore in the IRL series who burst out of obscurity with back-to-back wins in the first two rounds, now leads the points standings and qualified 16th for the race.
Hornish seems destined to stay this side of the Atlantic.
"I'm a fan of all kinds of racing but I like what I'm doing now," he said.
Hornish would not rule out a change of circuit, however, saying he might switch to stock car racing some time.
Irishman Derek Daly, who drove for the Ensign Formula One team before moving to Indianapolis to race in CART, is now a television broadcaster. He thinks the oval-based IRL series is not a training ground for potential Formula One drivers.
"If you have desire to go Formula One you go and learn to road race, this is not a foundation to be a road racer," said Daly.
Colombian Montoya, who now drives for the BMW-Williams team, and Canadian Villeneuve, who drives for BAR-Honda, made the transition to Formula One after racing in the rival CART series, which includes both road circuits and ovals.
---