Wednesday May 23rd, 2001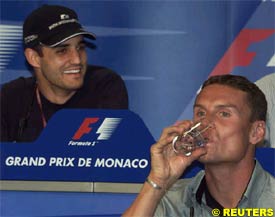 Participating: Juan Pablo Montoya (Williams), David Coulthard (McLaren), Kimi Raikkonen (Sauber) and Craig Pollock (BAR).
Q: Can you clarify your appeal regarding the Austrian Grand Prix?
Craig Pollock: Basically we felt we saw an incident while actually sitting on the pit wall, and the reason that we're appealing is to clarify the rule for passing under a yellow flag. We think it's a safety issue and we want to clarify it with the FIA.
Q: So you're not hoping to pick up an extra place?
CP: I think, first of all, if we get an extra place that's fine but the FIA can make a decision any way they want to make it and if they were penalising the driver, they can penalise him just by slapping him over the wrist and you gain nothing. I think it is a question of having clarity on what the rule is.
Q: What are your feelings about Jacques? It almost seems as though the stronger competitor is Olivier?
CP: Olivier is doing a very very good job in the car, and certainly pulling Jacques along. I think Jacques has had the worst start to any season that I've seen him having up until now. But he seems to have clicked back in. Certainly in the last test he was very fast in the car. His focus is back again and I think he will be very competitive.
Q: How revved up is he?
CP: I think he's revved himself up and I think obviously Olivier has revved him up a little bit but he doesn't need anybody behind him to tell him he needs to rev. He knows he needs to do the business. He knows he needs to do the business in the car. He's very capable of doing it. He's also supported the team all the way through the first two very hard years and done a fantastic job in the first two years, so just to get at him for a couple of bad or poorer performances than we're used to is a little bit hard.
Q: How bad is his back? Is that affecting him?
CP: I don't think the back is an issue. I think Jacques has had an injury from his youth that has been there for years and years and it was maybe aggravated during the Australian incident but I don't think that it is actually affecting him during the race.
Q: What's he going through, what sort of medical treatment is he having?
CP: He's not having any medical treatment as far as I'm aware. I think he's just following his physiotherapist. He's had everything checked out to make sure he can do any form of exercise and carry on driving and according to the doctors there's no problem doing that, he just needs to strengthen up his back.
Q: Will you be using traction control here?
CP: I think it's up to the drivers to decide whether they are going to use it or not, but if they decide to use it then they've got to go forward and really press the right buttons. It's probably quite a complicated thing. Some drivers feels more confident using it than others and I think the decision will probably be made on the morning of the race, and it won't be me who makes that decision.
Q: What about you, Juan Pablo? Will you make the decision regarding launch control?
Juan Pablo Montoya: Yes. It definitely is. I'm pretty confident that our system is working really well. It's pretty reliable so no problems. We will definitely use it. It's a big advantage for the start having seen the last two races. As long as people don't use it, it's going to be good for us.
Q: Do you enjoy this circuit?
JPM: Never having driven Formula One a street course, it should be quite a lot of fun. A Champcar was a lot fun, you could slide it around and I think around a place like here it would be pretty interesting.
Q: Do you feel the atmosphere of Monaco?
JPM: It's not that you don't feel the atmosphere here, it's just that there are so many things involved that you are concentrated on the racing or other things. At the moment, you have to focus on the racing. You can't really think 'hey, I'm in Monaco, this is exciting'.
Q: Kimi, what are your experiences of this circuit?
Kimi Raikkonen: I've been here twice before, in '94 and '98 when I did a kart race, but I only really know the swimming pool area and the Rascasse. I have walked around the circuit and went just around the track with a school trip. It's quite difficult to know what the corners look like because there are so many cars around.
Q: How do you learn the circuit?
KR: I don't have any special way of learning a circuit. It's just a feeling. The braking points just come. It's automatic. You try to just brake a bit later and then you find the limit, but not too late because there's not too much run-off.
Q: How do you feel about the championship so far?
KR: Yes, I'm pretty pleased but I've had bad luck in three races and I hope that things start to go a bit better now. I hope that they go better, but it's always hard to score points. We're always doing our best, as the team is doing its best.
Q: David, Michael Schumacher says that you're now his major rival; how does that affect you?
David Coulthard: It doesn't change anything. I'm just taking the races as they come and trying to do the best I can and develop the car because I still think that we have a lot of work to do. I don't think we have the best package out there on the track at the moment and we've just got to concentrate on that. What other people say and what points there are and these sort of things are the fill-in paragraphs for all the journalists.
Q: You've been testing at Valencia, how similar is that to here?
DC: Track surface is the most important thing when you're testing because that's the only thing that the tyres touch and we're trying to develop the tyres for this track and it's tight and twisty if that means anything. It's probably better than Barcelona because you give the tyres a harder time.
Q: But it's fairly smooth whereas this isn't, is it?
DC: I've never really think of Monaco as being bumpy. I'm sure it is but I think you're so focussed on the barriers and the apexes I'm not aware of the bumps at all. There's only a couple of tracks where you have big bumps that you might notice, where you bottom heavily and you feel it through your back. The rest of the time you're feeling the grip more than the bumps.
Q: You won the last race here last year, you won the last race in the championship, you must be feeling on top of the world?
DC: At the moment I'm thinking about this weekend and it's all to play for again. We've got to develop the car as best we can tomorrow, try to make the right decisions on tyres in qualifying which is obviously very important and then it's another race. There's only ten points available for this one just like all the others.
Q: Do you tackle this any differently to the others?
DC: When I first came here in '95, I hadn't been here before so I had to do a lot more preparation, trying to find your way around the circuit but I live here, I'm around here all the time. The only different is that it starts one day earlier so your physical preparation you have to move one day earlier so it eats into my normal Sunday off. It's probably a much bigger difference for everyone else involved because of the parties that go on, the functions, the glamour side of things that we don't see because we're tucked up in bed.
Q: David, Nelson Piquet used to say riding around Monaco was like riding a motorcycle around your bedroom. Is this circuit very constrained, that you can't use everything in the car? Do you feel that time is past and Monaco is close to its end?
David Coulthard: I certainly haven't had that thought and you've put that thought in my head. I think it's a unique challenge in the Grand Prix calendar and that doesn't necessarily meant that a driver who is better than another driver is suddenly going to outperform his car's disadvantages that he may have and stick it on pole here. You tend to see the same grid formation that you see on other low speed, low grip tracks. I think Monaco is safe on the Grand Prix calendar until there's a serious accident. You tend to bounce off the barriers and maintain the accident on the track. It's probably more of a problem for all of you, the mechanics, the logistics side of it. The drivers typically turn up and everything's prepared and we go driving. It's just another track, another challenge.
Q: David, what's your opinion on launch control here?
DC: Our system is very straightforward, it's an electronic control as were the clutches before we had launch control so I was very surprised when we had the problem in Barcelona because in theory it's just another way of controlling the clutch, so I think that initially if we, with our own electronics company are able to make a mistake then it's inevitable that some of the teams will have problems and it will just be a little while getting sorted out and then I would expect we won't have any problems again.
Q: Do you expect to use launch control here?
DC: Yes. It's quicker, there's no question. To rely solely on the traction control is a slower way of starting for us and I think you have to maximise everything that you have. I will be using it.
Q: And you're totally confident it's going to be OK?
DC: I think when you sit on the grid, you're concentrating on the lights. You're not really thinking about anything other than reacting to the lights. I wouldn't be sitting there thinking, oh, I hope the button works because you'd probably miss the lights. I think that the one problem that we had in Barcelona was the only thing that we missed. Otherwise it's just a question of the software doing its job.
Q: And Mika in Austria?
DC: My understanding is that he did the wrong thing, so it was a driver error. That can happen at any time. I could make the same mistake, but hopefully not.
---