Thursday May 24th, 2001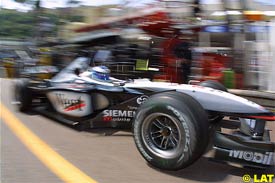 Mika Hakkinen made a pleasing return to the top of the timesheets by beating Michael Schumacher in Thursday's free practice for the Monaco Grand Prix.
The session was stopped three quarters of the way through when Juan Pablo Montoya had a big shunt in the swimming pool complex but survived unscathed.
Montoya's teammate Ralf Schumacher ended the session third, but also had a big smash at the swimming pool at the end of the session.
Rubens Barrichello was fourth, and David Coulthard was sixth with the Jordan pair of Jarno Trulli and Heinz-Harald Frentzen, complete with an unusual front wing, either side of him.
Coulthard touched the barrier early on and continued but Spaniard Fernando Alonso was not so lucky when he spun his Minardi into the wall at La Rascasse.
Both Jordan and Arrows were trying desperate measures to gain more downforce and both ran unusual wings, Arrows on the nose cone and Jordan's a T-shaped wing in front of the cockpit.
Nick Heidfeld had a quick spin, but the session was red-flagged with 15 minutes left to run when Juan Pablo Montoya hit both sides of the track in the swimming pool complex.
Eddie Irvine also spun at the end of the session, forcing Michael Schumacher to take avoiding action but Pedro de la Rosa was unable to complete a lap after his morning crash.
Pos  Driver        Team                    Times                 
 1.  Hakkinen      Mclaren Mercedes   (B)  1:19.853  151.929 km/h   
 2.  M.Schumacher  Ferrari            (B)  1:20.316    +    0.463   
 3.  R.Schumacher  Williams BMW       (M)  1:20.938    +    1.085
 4.  Barrichello   Ferrari            (B)  1:20.959    +    1.106   
 5.  Trulli        Jordan Honda       (B)  1:21.048    +    1.195   
 6.  Coulthard     Mclaren Mercedes   (B)  1:21.091    +    1.238   
 7.  Frentzen      Jordan Honda       (B)  1:21.505    +    1.652   
 8.  Alesi         Prost Acer         (M)  1:21.935    +    2.082   
 9.  Villeneuve    BAR Honda          (B)  1:22.010    +    2.157   
10.  Montoya       Williams BMW       (M)  1:22.035    +    2.182
11.  Fisichella    Benetton Renault   (M)  1:22.214    +    2.361
12.  Irvine        Jaguar Cosworth    (M)  1:22.302    +    2.449   
13.  Raikkonen     Sauber Petronas    (B)  1:22.800    +    2.947   
14.  Heidfeld      Sauber Petronas    (B)  1:22.807    +    2.954   
15.  Verstappen    Arrows Asiatech    (B)  1:23.409    +    3.556   
16.  Panis         BAR Honda          (B)  1:23.662    +    3.809
17.  Button        Benetton Renault   (M)  1:24.026    +    4.173
18.  Bernoldi      Arrows Asiatech    (B)  1:24.105    +    4.252   
19.  Burti         Prost Acer         (M)  1:24.857    +    5.004   
20.  Marques       Minardi European   (M)  1:25.920    +    6.067   
21.  Alonso        Minardi European   (M)  1:26.393    +    6.540
22.  de la Rosa    Jaguar Cosworth    (M)  1:27.316    +    7.463

All Timing Unofficial

---