Thursday May 24th, 2001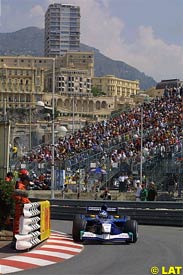 Sauber drivers Kimi Raikkonen and Nick Heidfeld were not happy with the handling of their Petronas-powered C20 after today's practice session for the Monaco Grand Prix.
Raikkonen, who had never raced around the Monaco Grand Prix circuit before today's session, was able to outpace teammate Nick Heidfeld, setting the 13th quickest time of the day. The 21-year old rookie, who has proven this season he is a fast circuit learner, hopes the Swiss team can improve his car for Saturday.
"Things weren't too bad today, considering that this was my first time driving the whole track here in Monte Carlo. It's a nice circuit," said Raikkonen. "For sure we can improve the car, and there is more to come from me, but the real problem today was yellow flags. They made it very hard to get a good lap, and I lost my last run when Ralf went off. I'm still confident that I can get into the top 10 on Saturday afternoon."
Heidfeld was only seventh thousandths of a second behind Raikkonen, the German competing at the tight track for the second time in his Grand Prix career. Despite his past experience, Heidfeld was another of the victims of the Monaco track, and spun during the afternoon session. He was able to keep going, but the German was unhappy with his car's handling.
"On my fastest lap today I had to pass two cars, and later my final effort was compromised when Ralf Schumacher crashed at the end of the afternoon session," said Heidfeld. "But in any case I was not happy with the way the car went today. We did some things which made it better, but it was still difficult to drive."
---