Thursday May 24th, 2001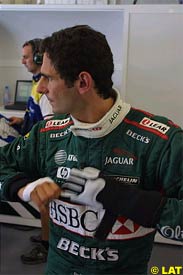 Pedro de la Rosa endured a tough start to his Monaco Grand Prix as he could only complete nine laps during Thursday's free practice after a big shunt during the morning saw him missing the whole afternoon session.
De la Rosa, in his third race with the Jaguar team, explained after the session his throttle had stuck open at the Portier corner, forcing him to crash into the barriers.
His mechanics spent most of the second session repairing the car, and the Spanish driver ended the day being slowest, more than seven seconds behind Mika Hakkinen, who posted the fastest time.
"Not the start I needed to say the least," complained de la Rosa. "My first session was disrupted on the in-lap as I came into Portier and discovered the throttle was jammed open. Luckily it didn't happen at a faster section of the circuit but it was enough to cause an accident and I lost over two-thirds of the second session while the team repaired the damage.
"With around fifteen minutes of the second session to go, I got into the car and no sooner had the tyre covers come off than we were alerted to a problem with the power steering. There was a malfunction somewhere and it simply wasn't worth taking a chance on going out."
Teammate Eddie Irvine was luckier than de la Rosa, setting the 12th fastest time of the day, the Irishman hoping a new aerodynamic package will help them move in the grid in Saturday's qualifying.
"That's not a bad start to the weekend for me," Irvine said. "The car feels well balanced and I don't have any issues with the tyres. We believe we still have more pace to extract from the car as we have not yet fitted the new floor that has been developed as part of our new aerodynamic package.
"We will be installing the new floor for qualifying and I'm reasonably confident of the gains it will bring us."
---