Thursday May 24th, 2001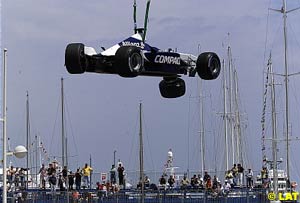 Colombian Juan Pablo Montoya learnt the hard way about the difficulties of the tight and slippery Monaco circuit aboard a Formula One car, crashing heavily against the barriers after losing control of his Williams during today's practice session.
Montoya, who had already raced at Monaco in 1998 when he was competing in the F3000 championship, spun off in the swimming pool complex, hitting the armco and forcing the session to be red-flagged with fifteen minutes remaining.
Though he ended the day as the fastest rookie, Montoya was more than a second slower than teammate Ralf Schumacher, who also hit the barriers. Technical director Patrick Head was not impressed after the session, but he was confident of recovering from the lost time.
"Two cars hitting the barriers is not an ideal way to start the first day of practice for a Grand Prix," Head. "We have done a lot of homework on tyres, brakes and car set-up so I am sure we can recover from this position and look forward to Saturday."
BMW Motorsports boss Mario Theissen admitted their performance was better than expected, with Schumacher in third place and Montoya in tenth.
"Apart from the accidents, which will give the mechanics a lot of work to do tonight, we have no technical problems and our performance is a bit better than we expected," said Theissen. "The engines ran trouble free and produced good top speeds, also Michelin seem to be very well prepared here."
Ralf admitted the accident he suffered was his fault, and after complaining of neck and back pains, the German received medical treatment and would spend Friday resting at home.
"The only fortunate thing about the accident was it happened just before the end of the session," said Ralf. "It was my fault as I was going too quickly."
---