Thursday May 24th, 2001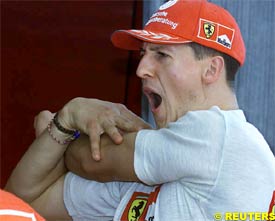 Championship leader Michael Schumacher was happy with his day's progress on Thursday, but complained of both understeer and oversteer problems after today's practice session for the Monaco Grand Prix, where he set the second quickest time behind McLaren rival Mika Hakkinen.
The German driver, who leads Hakkinen's teammate David Coulthard by four points after six races, set the pace during the morning session but was almost half a second slower than Hakkinen in the afternoon, the German not entirely happy with his car's handling around the 'green' (slippery) track.
"I was struggling with understeer and oversteer on the 'green' track, which is always a problem in Monaco" said Schumacher, who only used a set of tyres "The car is working quite well here, but the track is very slippery which could make the tyre choice for the race quite tricky."
Brazilian Rubens Barrichello was fourth fastest, and despite not being able to run as much as he would have liked during the morning session due to a brake problem, he was happy with his F2001.
"This morning I did not do as much running as I would have liked because of a problem with the brake balance," admitted Barrichello. "However, everything was back to normal in the afternoon. We tried various different set-up solutions and worked on tyre choice.
"Overall, I feel much better about today, than I did this time last year. The set-up we have found is much better suited to my driving style."
---