Thursday May 24th, 2001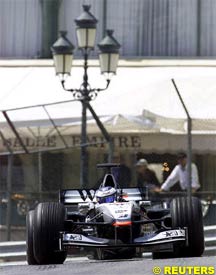 McLaren's Mika Hakkinen set the pace in his adopted home after a lively and experimental first day of free practice for Sunday's Monaco Formula One Grand Prix, and the Finn admitted he felt confident for the rest of the weekend.
Hakkinen showed on Thursday he is determined to put his bad luck behind him by setting a blistering pace in today's session, where he was nearly half a second faster than Ferrari's Michael Schumacher and more than 1.2 seconds in front of teammate David Coulthard.
The two-time champion, who has scored only four points after the first six Grands Prix of the season, admitted he was pleased being fastest at Monaco, where he lives now.
"It's great to be fastest in front of my adopted home crowd," said Hakkinen. "This gives me confidence for the rest of the weekend. You really have to work hard to find the limits here and there is no doubt the real key is qualifying well."
Coulthard, second in the Championship four points behind Schumacher, was only sixth quickest after damaging his car against a barrier.
"In order to get a quick time you have to position the car as close to the barriers as possible," said Coulthard. "In the second session I got a bit too close and incurred some damage to the right rear suspension and lost a lot of time while the team was repairing it."
---